KSIF Newsletter

No. 93 | March 2021
KSI Moscow I Honored with Commendation from Minister of MCST
Kim So-young, staff from the KSI Support Department of KSIF
The King Sejong Institute (KSI) Moscow I was awarded a Commendation from the Minister of Culture, Sports, and Tourism at an online award ceremony hosted by the King Sejong Institute Foundation (KSIF) on February 2.

The award ceremony was held in the presence of AVDEEV MIKHAIL, the Director of KSI Moscow I and the Director of the Wonkwang Education Center, the local operator in Moscow; Ryu Eunju, the Head of the Admission Cooperation Office of Wonkwang Digital University, which is the operator of KSI Moscow I based on Korea; operating personnel from the relevant institutions; and representatives of KSIF.

KSI Moscow I has been in operation for some 13 years since its opening in November 2008 in connection with the Wonkwang Education Center in Moscow and Wonkwang Digital University in Korea.

As one of the biggest KSI locations in the world, KSI Moscow I has taught more than 30,000 learners to date. It also co-hosts annual Korean cultural events with the Embassy of the Republic of Korea in Russia, thereby promoting KSI in the process. As such, it has established itself as one of major institutions promoting Korean language and culture in Moscow.

Kang Hyounhwa, the President of KSIF, presented the commendation certificate to KSI Moscow I and expressed gratitude toward the two operating agencies for their dedication and hard work.

We all look forward to the future achievements of KSI Moscow I!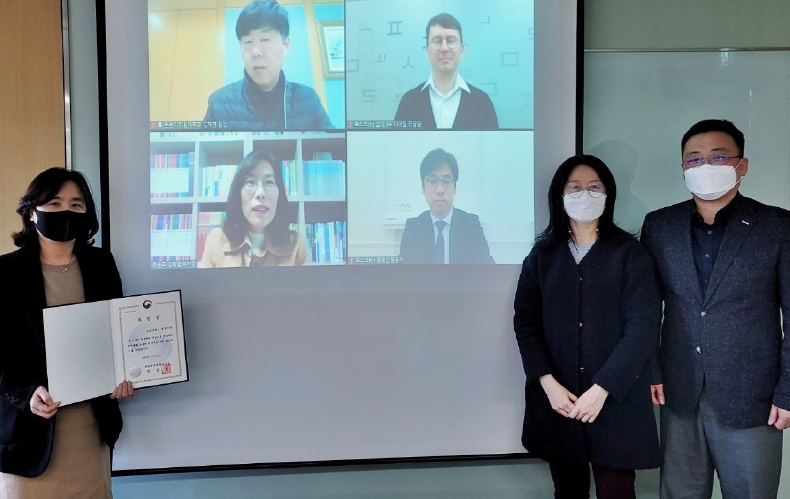 ▲ Representative of KSI Moscow I, KSIF President Kang Hyounhwa (leftmost person), and KSIF personnel taking a photograph during the online award ceremony hosted by KSIF